Cake2Go is one of the best cake restaurants in the Philippines. Make your everyday special with Cake2Go  bestseller cakes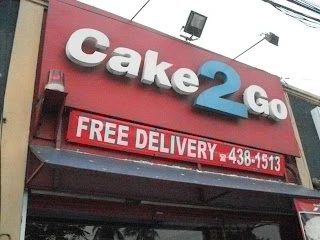 Cake2Go Menu Philipines Updated In 2023
Cake2Go menu is famous for its taste and quality.  Filipino beloved their taste and wants Cake2Go cake for family celebrations, birthdays, and friends gathering. They update their menu and also launch some new cakes.  
Recently 2 new tastes is introduced Red velvet cheesecake, mango peach, and carrot cheesecake. 
Here is the latest Cake2Go  price list for 2023:
Popular Cakes
| | | |
| --- | --- | --- |
| Devil's Food Cheesecake | ₱910.00 | Layers of chocolate fudge cake, cheesecake, and chocolate buttercream filling topped with chocolate buttercream icing |
| Red Velvet Cheesecake | ₱920.00 | Layers of red velvet cake and baked cheesecake held together by yummy cream cheese frosting |
| T-Overload | ₱880.00 | Layers of White Chocolate and Milk Chocolate Toblerone mousse on a bed of chocolate fudge cake |
| Dulce De Leche Cheesecake | ₱810.00 | Made with a graham crust, cheesecake, and topped with a yummy dulce de leche sauce |
| Classic Ube | ₱790.00 | Ube sponge cake base and ube cream filling |
| | | |
| --- | --- | --- |
| Mom's Chocoholic Fudge Cake | ₱780.00 | Chocolate fudge cake and a custard filling topped with decadent chocolate icing |
| Nutty Chocolate Surprise | ₱780.00 | Brownie crust topped with Chocnut mousse and garnished with a rich chocolate ganache |
| Cookies & Cream Express | ₱780.00 | Chocolate fudge cake base filled with a white chocolate mousse filling and enveloped in a Oreo cream icing |
| Nestle's Crunch Cake | ₱780.00 | Chocolate fudge cake, chocolate buttercream filling and topped with Nestle's Crunch bars |
| Bugs' Carrot Cake | ₱750.00 | Vanilla cream cheese frosting on the inside and decorated with vanilla cream cheese icing on the outside |
| Quattro Leches | ₱770.00 | Vanilla sponge cake soaked in 3 kinds of milk sealed with whipped cream and topped with a dulce de leche sauce |
| | | |
| --- | --- | --- |
| Mango Meringue Symphony | ₱820.00 | Mangoes, meringue, cashew nuts, and a chocolate mousse filling held together by whipped cream icing |
| Nutella Choco Torte | ₱860.00 | Chocolate fudge cake and Nutella cream cheese frosting filling and decorated with crushed chocolate cereal and Nutella cream cheese frosting icing |
| Salted Caramel Espresso Tiramisu | ₱870.00 | Layers of tiramisu cake, espresso whipped cream cheese mixture, salted caramel sauce, and chocolate ganache |
| Hershey's Reese's Tiramisu | ₱890.00 | Combination of Hershey's Reese's cream cheese mixed with a decadent chocolate sponge cake and topped with cocoa powder and Hershey's Reese's cups |
| Hershey's Kisses Tiramisu | ₱890.00 | Chocolate sponge cake, cream cheese whipped cream mixture and topped with whipped cream, cocoa powder, and Hershey's Kisses |
| Hershey's Cookies & Cream Tiramisu | ₱890.00 | Layers of chocolate spongecake, Hershey's Cookies & Cream cream cheese mixture topped with cocoa powder and Hershey's Cookies & Cream bars. |
| Chocolate Sansrival | ₱780.00 | Layers of meringue, Cadbury chocolate, and cashew nuts are held together by a yummy vanilla buttercream filling and premium milk chocolate ganache. |
| Brazo de Sansrival | ₱800.00 | Meringue layers filled with yema custard filling and topped off with rich buttercream icing & cashew nuts. |
| Black Forest Cheesecake | ₱840.00 | Layers of chocolate sponge cake and dark chocolate cheesecake topped with a bittersweet chocolate ganache and Maraschino cherries! |
| | | |
| --- | --- | --- |
| Carrot Cheesecake | ₱800.00 | Layers of carrot cake and baked cheesecake and enveloped in a yummy vanilla cream cheese frosting! |
| Coffee Butter Crunch Cake | ₱770.00 | Butter cake base topped with delicious coffee buttercream and garnished with a bittersweet choco crunch. |
| C-Bliss | ₱870.00 | A perfect slice of cookie crust, Cadbury chocolate mousse, and whipped cream. |
Cake2Go Bestseller Cake
The cake is a part of every celebration, Birthdays, Anniversary, family and friends gathering is incomplete without cake2go cakes. Make your days with chocolate Indulgence cake prepared and baked with rice ganache and cover with chocolate and caramel sauce at upper layer sprinkles chocolate for decorations.

If you a cheesecake lover? A Red Velvet cheesecake and Dulce De leech Cheesecake are the best options made with yummy cheese and topped with sauces.
Are you craving Ube? Classic Ube cake looks so beautiful and classy made with ube spongy cake and ube cream filling is perfect. 
One of the most demanding and every Filipino favorite cake is T overload it is a signature cake prepared with white and milk chocolate and covered surroundings with chocolate look so yummy and mouthwatering. 
Are you a fan of cake? Cake2go cake is the best choice a huge variety of cakes is available here you choose your favorite taste easily.
Cake2Go Menu
Cake2go menu is a well-known cakeshop in the Philippines. It offers many types of cakes like twist2 perfection and comfort cakes. Cake2go cake price varies from cake category. Nutella choco tort started from P860. 
Salted caramel espresso is the perfect hit for caramel lovers because it makes with layers of tiramisu cake, cheese, cream, salted caramel sauces, and chocolate ganache looks perfect to eat. 
 Have you tried nestle crunch cake, cookies, and cream express, Nutty chocolate surprise, Quattro lech all of the cakes available in their store go and check their good in taste also? 
Cake2Go Delivery
Cake2go online delivery services are also available. You just search cake2go near me and go to their website or place an order easily and quickly. It delivers the food to your doorsteps within time. They also accept customized orders decore the cake on your desire. cake2go charges P125 for delivery services.  
Courier services such as Lalamove, Grabexpress deliver their cake.
Take a look at more menus in the Philippines.
About Cake2Go 
Cake2go is the first choice of Filipino to take the cake from the metro easily. The aim of cake2go is to satisfy the customer and deliver a delicious cake to make your ceremony is memorable and sweet. 
All of your favorite cake is available in their cake collection choose order and it delivered to you soon.
Cake2go present in ALI MALL, Quizen city, Banawe, Cainta, Don Antonio,  Bicutan. Go store locator and find a store in your living city. 
Cake2Go contacts
If you want to know more about the cake2go menu and give them suggestions then contact them by using these social media accounts. 
Website: cake2go.com.ph
Facebook:web.facebook.com/cake2go.ph
Instagram: www.instagram.com/cake2go.ph